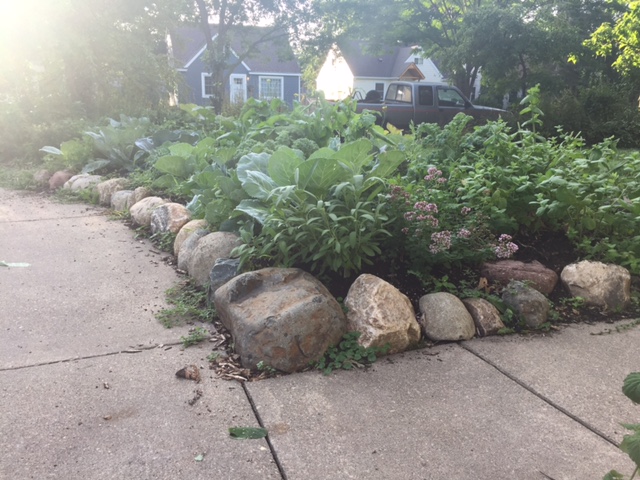 "To every thing there is a season and a time for every purpose under heaven." (Eccl.3:1)
About four months ago Father spoke to us concerning the Fellowship at Rivendell, "Release and Re-set"
We continued to gather for a few weeks to review what we had learned about the foundation of our fellowship in Christ, and then had a last supper together where I took the loaf of bread representing our local body, gave thanks for it, broke it, and offered it back to the Lord before we shared it with one another and had a lingering time of prayer and blessing before going our separate ways for 7 weeks.
I have a friend who has recently had a life changing encounter with the Lord and brings a fresh 'unreligious' mind to his new found faith. When I told him what we had just done he said, " You did what! – threw the budget out the window! I don't believe it – but I like it!!"
This isn't the first time we have been lead to "Let it all go!" Jesus said that we were to seek first the kingdom and that He would build his church. This can difficult for us humans who like to see 'big' tangible results. but this kingdom we are to seek, and this love we are to aim for, while being intensely practical are not neccessarily measurable or quantifiable.
The week we were to reassemble our son Robin, who cares for our garden, arrived in with a pile of stones, and then carefully began arranging them to 'fit together' into a beautiful garden border. You can see above the subsequent fruitfulness!
The scripture came to mind, "….a time to scatter stones and a time to gather stones together" (Eccl.3:5)
That weekend we had  the first gathering of the new set of "living stones" Father had gathered – some were familiar faces from the former fellowship, some were new faces, but all shared a common heart to, on the unchanging foundation of Christ, go the next stage of the journey together.
It is important for us to understand God's time cycles and to discern and joyfully embrace each new season of life as we let  go the last.
For us, the season we are now in is characterized by caring for widows. Father sent us 8 ladies who had all recently lost their partners. At the same time he has given us responsibility of caring for windows. After 15 years in this Big Green House there are some major physical restoration projects, including the 88 windows!
Last Saturday a man arrived to give us an estimate for some work. At one point he asked how we had come to move to America.
"God asked us to come." I replied. His countenance immediately changed and he began sharing his story….a dramatic conversion and a life now dedicated to God.
"I was almost not going o come to this appointment" he said. "I had a difficult morning after my wife and I had a quarrel because I want to be out on the streets doing ministry and she says I need to be more at home with her and the children. I left home crying out to God for an answer…….. Do you have a word for me?"
"Yes" I replied, "You once were THE man. Now your are GOD's Man…and in this season of life you need to be HER man." (His name happened to be Mann : – )
I told him how when we first arrived in the US everyone asked us, "What is your ministry?" I didn't know how to answer that and so I called a friend in Ireland. He and his wife had spent the first year of their married life living with us, having their first child at the same time we were having our fifth!
"What is your ministry?" repeated Keith, "O that's easy! – YOU are your ministry. It's who you are in your relationship with God with your wife and with your children. Everything else God does through you flows out of that!"
I suggested to our new friend we pray. The four of us held hands and the Spirit sealed this divine encounter with a kiss!"
"Can I give you a hug brother?" said the burly contractor :- )
I realized caring for the windows had simply given us another opportunity to care for another potential (ministry) widow : – )
Yesterday Robin brought some more stones and added a herb spiral  to our garden.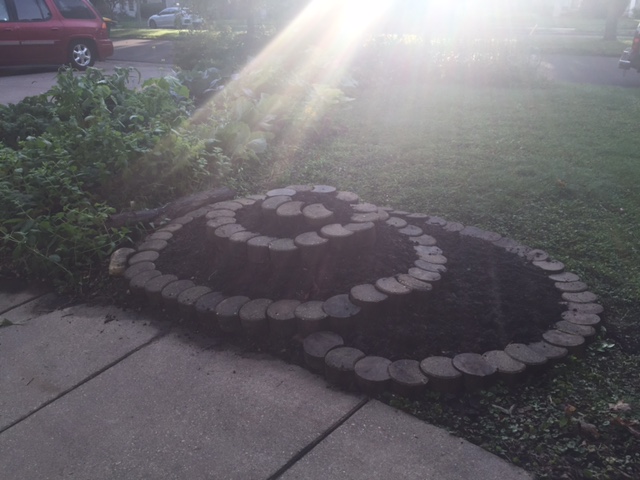 I recently wrote this poem:
With every passing year,
Each Spring is more hopeful
Each Summer more joyful
Each Autumn more fruitful
Each Winter more truthful.
May we continue to spiral upwards singing as we ascend toward Zion through each new season and cycle.