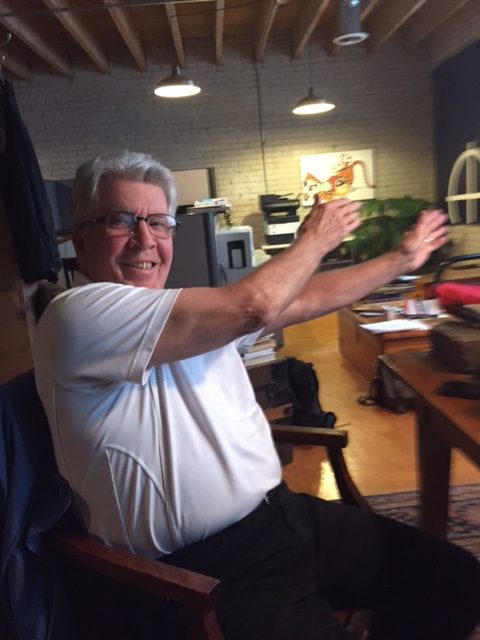 People are hungry for good news. This is the conclusion I have come to as I have observed my readership slowly creep up again over the last few weeks. I guess folk would rather hear about the Best than the Beast : – )
Continuing our meditation on "These three remain" ( 1 Cor.13:13) we move from the faith that brings an unwavering peace to our lives to the HOPE that brings a matchless joy, as we move this week from Paul's Secret to his MYSTERY.
A few weeks ago I was driving to a friend's office Downtown. At one intersection I saw my opportunity for a 'short cut' so, as they say here in America, I hung a quick right – only to be stopped in my tracks by another car that was pulling out……eeeeeever so slowly, onto the road in front of me! As I braked, already late for my meeting with friends Bill and Mike (pictured above) frustration almost got a hold as the car continued to craaaaaawl along at barely 10 mph. I couldn't wait to see who this "selfish and inconsiderate" road user was. As the car pulled around, there in the driver's seat sat a befuddled, burka-clad, black woman. I had an instant to go in one of two directions – and plumped for, "Bless you dear" 
The next day Hilary and I had just set off on a relaxed bike ride down the beautiful fall Parkway. A horn sounded behind us. As we pulled over the driver through the open window of his BMW barked, "You're driving in the middle of the road – you IDIOT!" Again I knew it was decision time as two different responses rose up, one from my soul the other from my spirit.  How would I choose to respond to this aggressive, affluent, arrogant, anglo white male ? 
I couldn't help but notice as we continued on our bike ride how incredibly "Minnesota nice" every other kindred cyclist was, almost apologetic as they passed by with a wave and a, "Thank you….have a great ride!" This time I was tempted to think, "It's so good to experience the camaraderie of our courteous and civil, cyclist's clan.!" 
These three rapid fire experiences of  the A B and C parties served to illustrate to me the incredible power of "party spirit" in my own life. Paul speaks against this, (Gal.5:20 RSV) and  warns the Corinthians that it had even tainted their relationship with Jesus when they asserted in this ungodly spirit, "I am of Christ"
Innocently we get tutored in this 'partisan spirit' from an early age as we're encouraged to cheer for the Vikings or the Packers, for the Glens or the Blues, for Liverpool or Man. United…..and then we think God is just like us.
There is 'an axis of evil'…. and we of course are the 'good guys'
This thinking is so ingrained in us that when we discover God thinks differently than this believers can find it hard to accept. "Could the good news of the Lord Jesus Christ really be the BEST – for everyone? ……..surely there must be a cut off point where the 'LJC party' is seen to win and everyone not on 'God's side' are declared the loosers!"
This purely human way of reasoning is no different from other religions who also think they have 'a corner on the market.'
The real gospel is foolishness to this natural way of thinking but I believe it is the 'Spirit of truth' who reveals that Yeshua Hamashiach is indeed the ONLY 'Way' – and what's more – He has a corner on the WHOLE market!!!
Jesus is not coming to take sides, He is coming to take over.
The other night this revelation dawned on me afresh as in a dream I was pondering Paul's words, "God was IN CHRIST conciliating THE WORLD to Himself." (2 Corinthians 5:17) 
In my dream I was beside myself with excitement. as I realized at once, both the breadth of this salvation and the narrowness of it's access.
"I have to write this down!" I said to Hilary in the dream but could only find a pencil…..so grabbed it and began frantically scribbling this verse on the only material available –  the dress on her chest!!! As I pondered it later, Father said, "I am writing MY law on your hearts."
You might wonder what the photo above has got to do with all this. Well the three of us at our meeting that day talked about the non partisan nature of the gospel and Mike said, "So was he crucified leaning toward the left or leaning toward the right? No his arms were stretched out wide – to embrace ALL men – indiscriminately!"
Paul speaks of this Mystery to the Ephesians,
"Blessed be the God and Father of our Lord Jesus Christ who has blessed us in Christ with every spiritual blessing in the heavenly places……….In Him we have redemption through His blood, the forgiveness of sins, according to the riches of His grace which He has lavished upon us with all wisdom and insight, making known to us The Mystery of His will, according to His purpose which He set forth in Christ  as His plan  for the fulness of time, to unite (sum up, bring together) ALL things in Him, things in heaven and things on earth." (Eph.1:3 – 10)
Consider first the Purple. Whose will, plan and purpose is it?…….  God the Father's
Now consider the Red. How is this will, plan and purpose to be fulfilled?…….. Through Christ
Finally consider the Green. Who or what falls outside the scope of this will, plan and purpose?…………………………..
Fill in the blank and there you have it!…..The MYSTERY – in black and white….. and glorious technicolor : – )
FAITH and HOPE, PEACE and JOY, come together beautifully in Paul's final words to the Roman believers, "May the God of HOPE fill you with all JOY and PEACE as you TRUST in Him, that you may overflow with HOPE by the power of the Holy Spirit." (Rm 15:13).  
Mysteriously this hope, extends from the God of hope to ALL things – so NO one or thing falls outside it's blessed scope!